Gravel bikes are becoming increasingly popular since they allow users to enjoy riding adventures on numerous terrains. However, many of the great gravel bikes can be very pricey, and as someone looking to buy a gravel bike for the first time, spending that much may not be a great idea.
Fortunately, tons of cheap gravel bikes cost less than $1,000. We have reviewed the top options on the market and put together 10 of the best options. Our experts evaluated their quality, performance, value, features, among others.
Best Gravel Bikes Under $1,000
State Bicycle 4130 ALL-ROAD
Why did we choose this bike?
Great design
Durable materials
Amazing features
Specifications
Frame material: Chromoly Steel Frame
Wheel size: 700c or 650b
Tires:  28c tires.
Number of Speed:  8 speed
Brakes: Caliper hand brakes
Pros
It is lightweight
It is easy to maintain
It offers an appealing design
Sports a durable frame and fork
Ideal for numerous terrains
Cons
There are not many size options
Brakes and tires are of average quality
Overview
The State All-road bike stands out with the level of customization it offers. During your purchase online, you can decide if you prefer the 650b wheel or 700c wheels. You can also choose your preferred saddle type, bike lock, pedal, or water bottle cage.
With the 700c wheels, you can enjoy longer rights that combine light gravel and tarmacs. But if you plan to go off-road, the 650b wheels will come with knobby tires that give you all the grip you require. If you prefer, you can purchase both tire sizes so you can switch them depending on the terrain you choose to ride on that day.
The gear range is not as vast as others at 1x11spd, but these should be adequate for any beginner. Assembling the bike is easy, so you don't have to worry if you are a beginner. What's more, since the bike uses disk brakes, it is easier for beginners to maintain than hydraulic disc brakes. Riders can also expect durability since the bike sports a steel frame, but they tend to be heavier than other options. Overall, this is a gravel bike that beginners can enjoy for less than $1000.
Tommaso Sentiero Gravel Adventure Bike
Why did we choose this bike?
Lightweight materials
High 24 speed
Specifications
Frame: Aluminum
Wheel Size: 700c
Tires:  40c tires.
Number of Speed:  24 speed
Brakes: Disc
Pros
The frame is lightweight
It offers a lifetime warranty
Shifting between gears is extremely smooth
Cons
You will need professional help to get it assembled
The spokes will need to be regularly checked by an expert to ensure durability and safety.
Overview
The Tommaso Sentiero Gravel bike is a great option for beginners looking for a cheap alternative. It comes with an aluminum frame that ensures that long-distance biking is extremely comfortable. The bike sports 700c wheels along with 40c tires that work flawlessly on loose surfaces and dirt.
It is fitted with a 3×7 Shimano Claris Groupset that is renowned for being reliable. This gear allows riders to seamlessly transition between gears depending on the terrain. The implication of this is that you get the best experience regardless of if you are riding on loose gravel, rocky terrains, or smooth roads.
If you enjoy long bike rides or bikepacking, the Tommaso Sentiero Gravel bike offers a variety of options that let you store small packs and water bottles. Also, it can fit in many garages or vehicle racks if you plan to go bikepacking in the mountains or other off-road terrains.
Braking is also swift with the Avid BB5 brakes fitted in this bike. It offers amazing modulation regardless of the weather condition. Lastly, the lifetime warranty will ensure you enjoy every penny you spend on purchasing this bike. For less than $1,000, this is certainly a steal.
Mongoose Men's Elroy Adventure Bike
Why did we choose this bike?
Availability of mounting options
Comfortable and wide tires
Beginner-friendly
Specifications
Frame: Aluminum
Wheel Size: 700c
Tires:  47c tires.
Number of Speed:  14 speed
Brakes: Disc
Pros
The frame offers many options for racks, mounting cages, and bottles
It comes with comfortable and wide 47c stock tires
The bike sports an internal cable routing, which ensure it stays neat
Allows for long-distance and comfortable rides
Ideal for beginners
Cons
It may be a little bulky for some users
The bike is only available in a single size
Overview
The Mongoose Men's Elroy bike is a top bike for beginners. It sports a steel fork and alloy frame, which ensure durability. Transitioning between gears is seamless using its 2×7 drivetrain alongside the mano Tourney derailleurs. With this, you are sure of moving swiftly between terrains regardless of the terrains or weather conditions.
The bike also offers numerous options for storage, which means it is ideal for longer trips. You can be certain of durability as it is made from high-quality materials that can withstand the use of beginners. Overall, this is a bike that is worth every penny you spend.
Raleigh Willard 1 Gravel Bike
Why did we choose this bike?
Reliable Manufacturer
Great for various terrains
Lightweight design
Specifications
Frame: Aluminum
Wheel Size: 700c
Tires:  35c tires.
Number of Speed:  16 speed
Brakes: Disc
Pros
Tons of storage options
Amazing suspension that works without issues in different terrains
Lightweight and durable design
Cons
The bike may need to be tuned after assembly for optimum performance
Overview
The Raleigh Willard 1 is another top bike for beginners. Its frame is made from aluminum which makes it lightweight, ensuring beginners can ride without problems. In addition, it comes with an aluminum fork that ensures maintaining versatility and speed with ease.
Moving through any terrain is easy since this bike comes with 16 speeds that transition without problems. It has a 700c wheel size alongside 35c tires which means you can go through routes without the danger of slippage. Overall, this is a versatile gravel bike that ensures reliability and comfort.
Raleigh Bikes Willard 2
Why did we choose this bike?
The manufacturer is known for quality products.
It can be used on various terrains
Specifications
Frame: Aluminum
Wheel Size: 700c
Tires:  40c tires
Number of Speed:  18 speed
Brakes: Disc
Pros
Works well on almost any type of terrain
Numerous amazing color choices
It comes with wider tires that ensure increased comfort
Cons
If you decide to upgrade this bike, it may go beyond your budget of $1,000
Overview
This is yet another amazing release from Raleigh. This bike is an improvement over the Willard 1, which comes with a higher 18 speed. With this, you can navigate any terrain with confidence regardless of if it is on dirt, paved roads, or gravel.
The tires are also wider than the average options in gravel bikes, which further enhances its capacity to deal with various surfaces. It is also made with durable materials, which ensures that it can withstand abuse from gravel terrains for a long time.
Schwinn Vantage Gravel Bike
Why did we choose this bike?
Supports numerous terrains
Tubeless-ready rims
Specifications
Frame: Aluminum
Wheel Size: 700c
Tires:  35c tires.
Number of Speed:  24 speed
Brakes: Mechanical Disc
Pros
This is a versatile bike that can be used for sport, fitness, or adventure
The brakes have smooth stopping power
Maintenance is easy since it comes with a threaded bottom bracket
Assembling this bike is not too complex
It is made from high-quality materials
Cons
It does not come completely assembled
The attached manual may not be detailed for some users
Overview
The Schwinn Vantage Gravel Bike is a versatile bike that allows you to go on various terrains. It uses a stiff aluminum frame that lets you go through routes smoothly while absorbing bumps and shocks. The bike also comes with tubeless-ready alloy rims, which makes it an ideal choice if you plan to switch to completely tubeless tires later.
The stopping power of this bike is amazing with the help of its TRP Spyre C brakes which also offer great modulation. Overall, this bike should be easy for any beginner to handle.
Diamondback Bicycles Haanjo 2
Why did we choose this bike?
High-quality materials
Great braking power
Specifications
Frame: Aluminum
Wheel Size: 700c
Tires:  38c tires.
Number of Speed:  8 speed
Brakes: Mechanical Disc
Pros
It is extremely affordable
The bike is lightweight
Shifting between gears is easy and smooth
It is made with high-quality materials
Cons
It can offer very high speeds
It does not have any carbon
Overview
The Diamondback Haanjo 2 gravel bike is created with a high-quality steel fork and alloy frame. With this, you can be certain of a comfortable ride regardless of the terrain. However, this bike does not come with any carbon, which may be a major downside for some riders.
Regardless, you can still be sure of a comfortable ride on any terrain as the drivetrain attached to this bike further enhances its ease in going through various routes. Furthermore, this bike is extremely lightweight at around 25.3 pounds, which makes it a great bike for beginners.
Fuji Jari 2.3
Why did we choose this bike?
Extremely affordable
Versatile bike
Specifications
Frame: Aluminum
Wheel Size: 700c
Tires:  37c tires.
Number of Speed:  18 speed
Brakes: Mechanical Disc
Pros
It offers great geometry that supports various forms of riding
Amazing disc brakes with smooth stopping power
The handlebars are easy to operate
Cons
Some parts of the bike are not as durable as other high-end options
It does not offer enough customization options
Overview
The Fuji Jari 2.3 is a versatile bike that can move flawlessly on various routes, including smooth roads, gravel, and many others. It comes with a fender and rack mount that allows you to store items for long periods of biking.
The bike comes with amazing stopping power with the help of its disc brakes which brings you to a halt even at high speeds. Its handlebars are well built and easy to operate, especially when used for off-road riding. Lastly, the bike tries to provide riders with everything at an affordable price range without compromising quality. Any person looking to dabble into gravel bikes won't make a mistake choosing this option.
Viribus Adult Gravel Bike
Why did we choose this bike?
It has a high-carbon steel frame.
Gears support smooth transitions
Specifications
Frame: High-carbon Steel
Wheel Size: 650b
Tires:  27.5
Number of Speed:  21 speed
Brakes: Mechanical Disc
Pros
Appealing looking bike
High-quality materials used in production ensure durability
Brakes offer great stopping power
Extensive 1-year warranty
Cons
Overview
The Viribus Adult Gravel Bike is a rugged bike that is ideal for new riders. It comes with a strong and lightweight frame that is constructed from high-carbon steel. This bike sports a 21-speed derailleur that smoothly moves between gears to ensure easy navigation.
The aluminum spokes and steel frame are shock and corrosion resistant to ensure durability, which ensures you get value for your money. It can support weights of up to 330lbs and is an amazing bike for adventures and daily commuting.
Tommaso Siena Disc Adventure Bike
Why did we choose this bike?
Wide and comfortable tires
It can be used on numerous terrains
Specifications
Frame: Aluminum
Wheel Size: 700c
Tires:  40c
Number of Speed:  21 speed
Brakes: Mechanical Disc
Pros
It comes with a highly durable frame
Riders can enjoy up to 21 speeds
The bike allows for long and comfortable rides
It is great for various terrains
Cons
Assembling the bike may prove to be difficult for beginners
Overview
Beginners searching for a versatile bike that can go through numerous terrains can easily turn to the Tommaso Siena Bike. Its 700 x 40c tires ensure you get amazing traction and stability regardless of the terrain you ride on.  The bike also sports compact handlebars and frame geometry, making riding this bike comfortable even on long rides.
There is a versatile speed option of up to 21 speeds that transition smoothly without hassles. Lastly, users can be certain of durability since it is created using long-lasting aluminum that can withstand the impact of uneven terrains.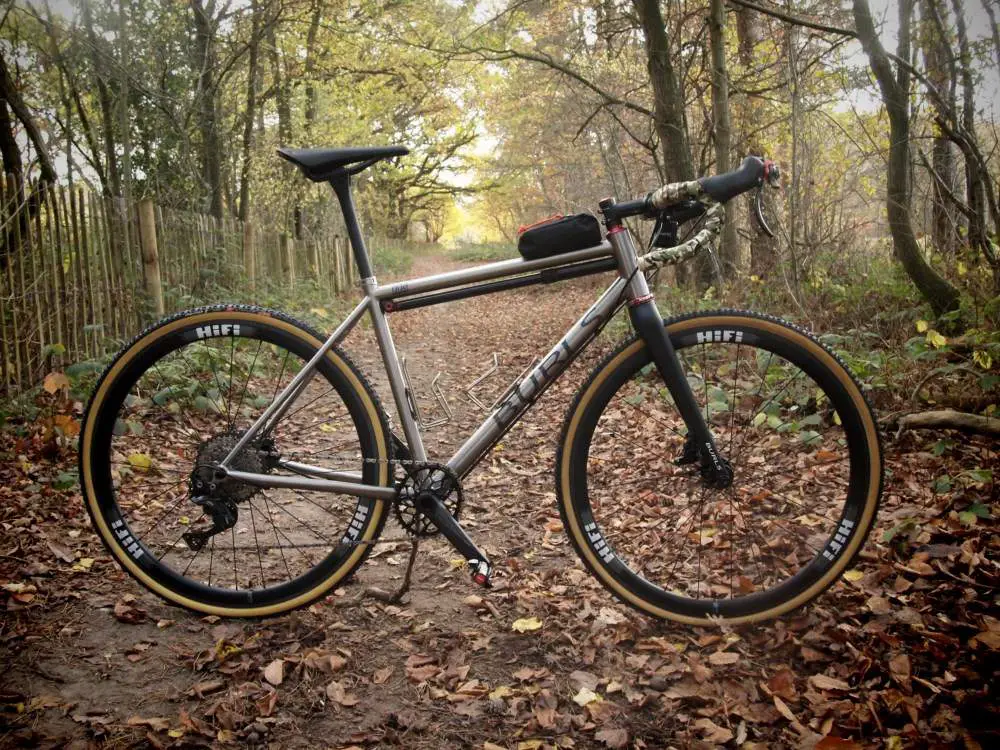 How To Choose The Best Gravel Bikes under $1,000
There are tons of amazing gravel bikes under $1,000 on the market today, which is why it is understandably difficult to make a choice. However, we used some essential factors to pick the best options, and we suggest you use them if you want to choose options outside our list.
These include:
Type of Gravel Bikes
There are different categories of gravel bikes, including those for light, rough terrains, and bike touring. Each bike serves different purposes, so you will want to evaluate your needs properly before you choose.
Frame Materials
Various gravel bikes offer different frame materials. You will mostly find aluminum, steel, or carbon. Each has its benefits and drawbacks, so it is critical to understand everyone before you choose. Gravel bikes created using aluminum are more affordable and are the lightest of the options. However, they do not last for that long and will wear out with time. Nonetheless, they are ideal for beginners or experienced riders who want a budget-friendly option.
Steel frames are stiff and last longer than aluminum frames. But they may cause the bike to be bulkier since steel is heavy. Finally, carbon gravel bikes are light and durable. They are great for riders who want the best performance but don't come at a low price. Make sure you weigh the pros and cons of each before you decide the option that is right for you.
Groupset
Gravel bikes come with either 1x, 2x, or 3x shifting, with unique pros and cons. 1X shifting comes with the least number of gears, and since they have fewer parts, they are lighter and not as difficult to maintain. Also, they are ideal for entry-level riders because the rider does not have to factor in cross-chaining. On the downside, the jumps between gears are larger than the 2x or 3x shifting.
In contrast, 2x shifting offers a broad gear range in comparison to 1x. This is a benefit that will be worthwhile if you go through fast descents or take steep climbs. On the downside, they have a higher tendency to fail because of the numerous parts included.
The last option is the 3x shifting, which provides a broader selection of gears. You will mostly find it in beginner bikes, but it is not widespread because it is quite heavy and complex.
Wheel Size
Gravel bikes come in either 650b or 700c wheels, and the choice is dependent on the terrain you are going to be riding. 700c wheels are ideal for paved surfaces and light terrains because they allow you to ride fast without using up excess energy. 650b wheels use wider high-volume tires and have a smaller diameter, making them ideal for rougher terrains like muds, forest roads, trails, etc. They also spot knobs that make certain you get adequate adhesion and grip. You will need to consider your riding routes to effectively choose the best gravel bike for your requirements.
Brakes
You will find mostly disc brakes in gravel bikes. They are the best option for these bikes because of their amazing stopping power, regardless of the weather conditions. The disc brakes are divided into Hydraulic disc brakes and mechanical disc brakes. Hydraulic disc brakes use a system that is filled with fluid, but DIY maintenance is hard due to its complexity. The mechanical disc brakes, on the other hand, work like rim brakes are easier to maintain. However, there is a higher tendency for the steel cable to deteriorate and break unexpectedly.
Compatibility with Accessories
This is an essential factor to consider if you plan on going bikepacking. Some gravel bikes allow you to equip them with bags to provide more cargo space. With this, you can easily store your essentials if you want to go on long trips.  If this is not the case, you may not need the extra space.
Size of Gravel Bike
Also, you need to make sure you go with the ideal gravel bike size for your Weight. This will ensure you are comfortable and reduce the possibility of injuries. Gravel bikes may come in S, M, L, XL, etc., so make sure you go with the right one.
Conclusion
As you can see, you don't have to dig a hole in your pockets to get a good gravel bike. Here, we have covered the best gravel bikes below $1,000, with some made from aluminum, steel, and carbon. Any of them would make a great option for any beginner looking to begin riding gravel bikes. Pick one and start to enjoy the benefits of off-road adventure at an affordable price.